Bookings
Covid Refund Guarantee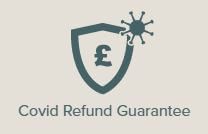 In these uncertain times, it is reassuring to know that if you are unable to travel to take your holiday because of a national or regional lockdown, we will give you a full refund. Please note that the refund guarantee applies only to the address given on the booking at the time of booking being put in a high tier, and when the travel restriction coincides with the period of your holiday.  The refund guarantee covers lockdowns and Tier restrictions, but does NOT cover you (or members of your party) for being unable to travel because you (or a member of your party) fall ill with Covid, or are required to quarantine or self-isolate. These events can be covered by you taking out travel insurance. A number of bank travel insurance policies as well as a number of single trip policies include cover for illness with Covid and self-isolation (example links below) or you can look for suitable cover on comparison sites such as GoCompare.  Please see our Cancellation Terms below for further information.
Check Availability, Prices and make Bookings for each of our 5 luxury dog friendly holiday cottage close to Whitby, North Yorkshire. All 5* Gold Awarded By VisitEngland & perfect getaway for all seasons
Check Availability & Prices and Book Your Stay
Availability & Tariffs
Check availability dates for each of our 5* luxury holiday cottages using the calendar below and request the number of nights you want when prompted. The table will then display the price for your holiday (without dogs – book these on the next page).  From the grid below, Grey = booked, Green = available.
Relax… the price you pay is all inclusive – there are no hidden extras.
Short Breaks are available all year round except for Christmas and New Year.
You can go ahead and book online anytime 24 hours a day, or call on 07962223582 or email us at holidays@unique-retreats.co.uk
Dates
Click on the available 'Arrival Date' or 'Short Breaks' date for your chosen accommodation and choose your preferred 3, 4 or 7 night break, or longer if required. This will then bring up the Online Booking Form, this is where you can book your dogs in and add a few little added extras we have available.
Payment & Confirmation
Payment information
We  accept payment by bank transfer or by credit or debit card (there is no charge for card payments, BACS or cheques). If you opt to pay by credit or debit card then you will be transferred to the Holiday Rent Payment Secure Payment Gateway.
You will receive an automated confirmation, and also a personal confirmation from us, which will include payment information. We will email you to remind you when the balance is due.
Cancellation:
Bookings placed from 09 January 2021 will be treated based of the reason for the cancellation, the length of time between cancellation and your holiday, and our ability to re-let the property.
National Lockdown – In the event of a national lockdown that coincides with your holiday, where you are unable to travel, and we are prevented from opening, you will receive a full refund.
Regional/Local Lockdown – In the event that the address given on the booking is put into Local/Regional Lockdown, rendering you unable to travel, and the period of restriction covers the period of your booking, you will receive a full refund.
Please note that this applies only to the address given on the booking by the lead booker, and does not apply if an unidentified party member at a different address is unable to travel due to local lockdown.
If we have to close due to lockdown OR the postcode on the booking confirmation is subject to a Do Not Travel order by government.
Please see our Terms and Conditions for full details.