Covid Refund Guarantee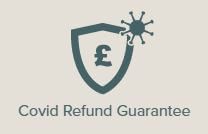 In these uncertain times, it is reassuring to know that if you are unable to travel to take your holiday because of a national lockdown we will give you a full refund.   The refund guarantee covers national lockdowns but does NOT cover you (or members of your party) for being unable to travel because you (or a member of your party) fall ill with Covid, or are required to quarantine or self-isolate. These events can be covered by you taking out travel insurance. A number of bank travel insurance policies as well as a number of single trip policies include cover for illness with Covid and self-isolation (example links below) or you can look for suitable cover on comparison sites such as GoCompare.  Please see our Cancellation Terms below for further information.UK TRAVEL INSURANCE
We strongly recommend you take out your own travel insurance for UK holidays which covers booking cancellations. There are many policies out there now that cover Covid-19 illness, self isolation etc. They will also probably have wider coverage for things like jury service, redundancy, general illness and it is a good idea to protect you holiday in this way. We don't sell or recommend any policies but you can find them on comparison sites or just search google. Taking out a policy will give you peace of mind.
STANDARD CANCELLATION TERMS
See our terms and conditions  – cancellation terms change depending upon how much notice you give us.
When we accept a booking from you we exclusively reserve the cottage(s) selected for the dates requested and decline all future booking requests for these dates. Most people book well ahead and it can be difficult to find a new booking at late notice.
We understand that people sometimes need to cancel and ask that you please give us a much notice as possible so that we have a chance to rebook the cottage.
MASTER CANCEL COVER
This is no longer available for new bookings – it was available for most bookings from June 2020 to December 2021.
If in doubt just drop Joe an email or call on 07962223582.
This product was available for most bookings placed from June 2020 to January 8th 2021
Master Cancel withdrew from the UK market on January 8th 2021 and this product no longer applies to any booking placed after this date. Master Cancel was provided by Rental Guardian, an American company. They continue to trade in the USA  and sell other products here in the UK.
Our revised Terms and Conditions for bookings taken from January 9th 2021 or earlier bookings. You will be asked to view and accept them in the booking process.
The question most guests ask is what happens if there is a lock down? In the event of a National or local lockdown that forces us to close or affects the postcode on the booking form we will either rearrange your dates or provide a refund (less an administration fee of unto £75).
There are many reasons why you may need to cancel a break not just the dreaded Covid so as always you should ensure that you have a UK travel policy that covers you if you need to cancel for reasons other than Covid. Many travel policies will now provide cover for Covid-19 so it is well worth having a look what is available to give you ultimate peace of mind.
EXISTING MASTER CANCEL BOOKINGS – HOW IT WORKS
For existing bookings with Master Cancel in place if you need to cancel up to 2 days before we will either rearrange your dates so you can enjoy your holiday at a later date or refund your accommodation cost on the date of your original check in – you can cancel for unforeseen circumstances.  So if you are due to arrive Saturday you can cancel up to the Thursday before.
No forms to fill in, no doctor's notes or any evidence required, simply call us and we will ask for an email confirmation. You will be reimbursed between the check in & check out dates of your original booking – this is a condition of the Master Cancel scheme.
NEED TO CANCEL DAYS 2 TO 0 BEFORE ARRIVAL
Sorry if you cancel in this period there is no refund available, we may be able to re-let the dates for you so always call and we will see what we can do to help. It is rare that a guest cancels on the day of arrival or the day before but it has happened and we have sometimes managed to re-let the  dates.  Just to be clear to cancel a Saturday arrival  you need to cancel by the Thursday before to qualify for a refund. In this example if you cancel Friday or Saturday there is no refund available.
MY ARRIVAL DATE IS IN THE FUTURE BUT I BOOKED BEFORE JUNE 2020 – IS MY BOOKING COVERED?
Master Cancel only applies to bookings placed from June 2020 to January 8th 2021 and there are some exceptions. If you have an earlier booking maybe one that was re-arranged or you paid with a voucher issued due to first Covid lockdown affected booking that booking will not qualify for Master Cancel because your original booking date was prior to us being accepted into the Master Cancel scheme.
If you placed your booking before June 2020 &/or used a covid-19 related voucher for your booking it is not eligible for Master Cancel and our old cancellation terms apply – see your original booking confirmation. If in doubt just drop Joe an email or call on 07962223582.